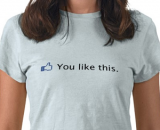 Probably not surprising but still impressive to see how Facebook slowly but surely beats any local competition in almost any country. Thanks to the diligence work of Italian Vincenzo Cosenza we can give a clear insight in the current social media market and the development over the last 18 months.
While in june 2009 there were still 16 social networks other than Facebook leading in their local market, 18 months later only 11 have withstand the Facebook power which makes Facebook market leader in 115 of 132 countries. Orkut is still market leader in Brasil, V-Kontakte still rules Russia and Zing is still Singapore's favorite.
In Holland Hyves still seems to be market leader but looking today in Alexa shows that Facebook has now also overtaken the local social media site which just has been bought by media giant TMG for € 43mln. Makes me wonder for how long TMG will be happy with this acquisition. For the rest all of Europe has become Facebook which in my opinion is a shame and more prove that the European Internet scene can't compete with the US.
Biggest loser in the last 18 months seems to be Hi5 which lost its last 5 market leader positions and is now completely of the map. In China Facebook seems to be no threat whatsoever but having a government favoring local players and limiting access to Facebook can't be counted as an open market.
Thanks to one commenter we can now also report that the country Bhutan is also dominated by Facebook! Mark, do you cut the cake?
Source http://www.vincos.it/
No related posts.