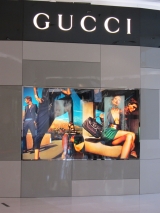 One of the most asked questions in the e-commerce Industry in Indonesia and interested investors is when E-Commerce in Indonesia will really boom and what will be the trigger. Suddenly one "expert" has a Eureka moment and yells "PAYMENT SYSTEM!!!". Other "experts" nod their head in agreement and quickly update their slick Keynote presentation for the next event. News spreads faster than the Ariel/Cut Tari video and soon after all investors are happily adopting this sound byte while making a serious and wise face. "The key to e-commerce Indonesia is payments". It's like a cheap course "E-commerce Expert In 5 Minutes" and the one shouting it the loudest and most often will become the ultimate e-commerce expert in Indonesia. Many invitations for pretentious events will follow, the press wants to hear you say the soundbite first hand and investors from abroad will flock to peel his mind.
PERMISSI!!! Coming through, Sangat Pedas in the house to ruin the party. Throwing in some less sexy theories and soundbites telling you e-commerce in Indonesia actually needs something else even more.


What e-commerce in Indonesia needs are REASONS TO BUY ONLINE!
I know, the soundbite itself is far from sexy and it's a bit general but allow me to explain. So far most companies selling online in Indonesia are basically "brick-and-mortar" stores expanding their sales channels to online. Often without a clue but hoping to surf the wave of e-trade cruising to become the next Amazon. But here's the problem. Let's say the brick-and-mortar store sales cameras. So they publish one of their top model, the Canon Powershot SX230 HS, in their online store for exactly the same price as in their offline store. On top of that you also encounter extra charges for payment, administration and at least for shipping. To make things even worse, after you ordered your item which seems to be in stock you receive a phone call it actually isn't. A "minor" inconvenience as a result from the website only being updated once per month.
Assuming the obvious, that people need real reasons to buy online, just wonder, how important is payments in that perspective? Obviously payments are important but all of a sudden become really unimportant when no one is interested in buying something online in the first place.
What Indonesia needs are true E-Commerce entrepreneurs who choose for online sales exclusively. The ones that don't care about having a fancy store in high-end shopping malls. The ones that buy cheap, keep their overhead low and understand that selling online is about meeting certain expectations. I buy my jeans online. I buy them online because they're around 25% cheaper, the items are delivered the next day whatever the size and often the number of items offered is way much higher compared to any offline store. So what I get is that I save money, more choice and convenience. For me clear reasons to buy online.
Getting back to the importance of payment systems and why it's less important than offering reasons to buy online. Payment systems from the buyers point of view fall in the category convenience. So without a payment system it becomes less convenient, but if one can still save a significant amount of money and get offered a wider choice it's probably still preferred over buying in a brick and mortar store. From entrepreneur point of view, not having a payment system will cause some orders to drop out because they won't be paid. Who cares, you're selling and as long as you give strong reasons to buy online (price, convenience and fast delivery) this percentage will be really low.
Payment systems help, for sure, but in a country where people are used to go to an ATM a few times per week to pay their bills and Internet banking is growing like crazy I say it's definitely not the most important driver. It's time we get a new breed of entrepreneurs in Indonesia who have the balls and insight to let go of the old-school offline approach and focus on online business. The funny thing is that there's a whole group of home based entrepreneurs who already found this out. This "hidden" market represent the majority off online sales transactions by successfully selling just about anything through sites like Facebook, Tokobagus and Kaskus. The irony is that "simple" guys like Maznoer understand e-commerce better than the big corporates, professional stores and the so called "experts". I wouldn't be surprised if one of those who are currently operating from their home or small garage in the future will grow to become the Amazon of Indonesia.
*Mumbles something and does update Keynote presentation*