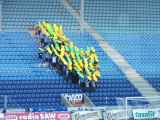 Germany, neighbor of Holland and (in)famous Bierfest in october, great cars, King of clones and some of Holland worst traumas (1-2). I worked and lived in Germany myself for a while and even went there for a holiday once. You can accuse and praise the Germans of a lot of things but till now humor wasn't really one of them.
Well, stop the presses, I have to change my opinion today. It doesn't go that well with FC Magdeburg, who once in the 70′s were champion of East-Germany and won Europe Cup 2 (Cup of Cup Winners). At this moment they pretty much hot rock bottom holding the last position of a regional league which is part of the 4th division in Germany. After 25 matches they have 20 points and only scored 8 goals. In The Netherlands fans tend to react a bot more primal, more testosteron driven, not really creative I guess.
Anyway, back to Magdeburg where the supporters are more into the 13th man idea and offer more constructive support to their team. Instead of arming themselves with weapons they've equipped themselves with big arrows in the club colors which they used to keep the players up-to-date on where the ball supposed to go: in the goal.
So far the experiments with this new technique were partially positive, FC Magdeburg managed to score once but still lost 1-2 against Berliner AK '07 (who doesn't know them. Check the VIDEO of the best German humor EVA! Via 101GreatGoals.