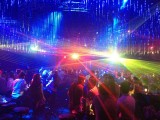 These days it's pretty rare for me to go clubbin' in Jakarta. Besides work and age I also find most clubs to predictable, the music is predictable and often very commercial and the whole working girls hassle has become very predictable and annoying.
But yesterday I had some long-time friends over of who most moved abroad and we wanted to make it a happy and special night. So someone proposed to go to Colosseum because it's being said that it has the best and most expensive light show in South-East Asia and the music supposed to be good. The only thing that got me worried upfront was that it's located in Kota where also Club Stadium is located and Kota does have a reputation (understatement) for drugs and girls. But since we were with a nice group of people I agreed to go and it totally blew my mind.
Colosseum Club is located in 1001 Hotel in Kuta and spans over 1000sqm has a 16 meter high ceiling. In the beginning of the evening there's live music and sometimes some very high profile bands. But I guess everybody is waiting for the band to stop, which was definitely the case on the evening I was there. The live music was a lot of ballad kinda stuff which is not really what you want on a saturday night. But around 00:30 the band was done and the night really began.
I gotta hand it to the people behind the club, pretty much everything is perfect. The service was good, sound is friggin' awesome and the light show is out of this world. On their website Colosseum says "We brought the craftiest lighting designers in the world whose work have graced the best clubs in Ibiza and New York. We gave them the canvas no other place can give them: our size. What happened when you give an artist the ultimate canvas? A masterpiece: Colosseum." and their absolutely right. Just check the videos below and tell me, where have you ever seem something like this before?
Little side step, what I also never seen before is that a club has wheelchairs to wheel the people out who are too far gone to be able to stand on their feet. Yep, it is still Kota so no doubt in my mind a lot of people were high.
Some practical things and commonly asked questions on clubs. Pricing is pretty good, much cheaper than Illigals and Stadium, the competitors close by, and I would say pretty much average which I didn't expect considering that this club is the creme-de-la-creme in Jakarta and South East Asia.
Girls? Sorry but this is the most asked question on blogs like Jakarta100bars.com so here's my observation. Before entering the main Arena I saw a room with dozens of LC's (Lady Companions) and as the crowd is rather upmarket, so were the girls. The rate for being accompanied by a girl for the whole night is Rp. 600.000 and that's all I can tell as LC's are not my thing.
The dancers we're also from another universe. From what I was told most dancers come from Uzbekistan or some other Eastern European country and we're extremely beautiful and professional. This is an observation from me but also confirmed by all the women in our group as well. But you got to take my word for it as there was no way to make pictures of them. Basically every time they were dancing it was forbidden to take any pictures and the large security group took that part of the job extremely serious.
For me Colosseum is the best club I have seen in my life and definitely the #1 club in Jakarta, by far. So if you're living in Jakarta are plan a visit to Jakarta you should definitely check it out.
Colosseum Club Jakarta (1001 Hotel)
Jl. Kunir No.7
Jakarta, Indonesia 11110
Phone number: 0822-7000-1001
Open on Friday and Saturday until 4am