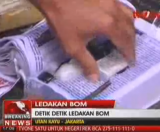 Today the office of the Liberal Islam Network, a moderate Islamic group, received a book which seemed to be addressed to the group's former director and liberal Muslim scholar Ulil Abshar Abdalla. Because someone detected cables with a strong smell they suspected it might be a bomb and decided to call the police. So far so good. However, the police officer who arrived at the scene clearly tried to dismantle the bomb which ended bad resulting in four people injured including the policeman losing his hand.
Earlier that morning former Densus 88 antiterror police officer, Gen. Gories Mere also received a similar device which could be defused.
The video below shows the attempts of the police officer to defuse the bomb, in close up as well as the explosion and as many my first reaction is asking why this police officer didn't wait for the bomb squad. In the comments of the video there are already some sarcastic reactions but considering the fact that this guy just lost his hand and is generally seriously injured I just hope for his speedy recovery.
Remember people, DON'T TRY THIS AT HOME!
No related posts.