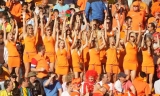 Two years ago Heineken was one of the main sponsors of the FIFA World Cup 2010. But it was Bavaria, with what in my opinion was a playful and harmless guerrilla marketing stunt, that got far more attention than Heineken. For just a fraction of the cost Bavaria arranged 36 women who were wearing an non-branded orange dress. But even though unbranded, everyone in Holland knew it were the Bavaria Oranje Dresses which were a bonus that came with Bavaria beer crates.
After the FIFA made a whole fuss about it Bavaria was even more happy because now the whole world knew it was their ambush campaign. The girls were less happy because they got arrested but up till now it puzzles me what law they have broken. The response of the FIFA and Blatter specifically symbolizes that money is more important than the game, up to an extreme and idiotic level. The dresses were unbranded and the girls were just having fun and definitely entertaining the crowd.
Anyway, Heineken was not amused and FIFA certainly wasn't amused. But when all things blew over the conclusion was that this an extremely simple, creative and successful stunt for Bavaria. And now Euro 2012 is coming and the last thing EUFA wants are upset sponsors because more ambush marketing by non-sponsoring brands. This time it's the beer brand Carlsberg putting in the big sponsor bucks but the video below might indicate that Bavaria is out to deliver another sucker punch.
Update: By now the video has been blocked on Youtube for obvious reasons but with courtesy of LiveLeak the video can still be seen. I doubt though that it will go viral while being blocked and spoofed by Youtube.