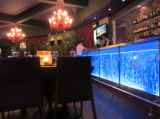 IndoChine Jakarta is a restaurant/bar/beach club located on the 8th floor of the trendy FX Lifestyle X'enter in the Senayan area of Jakarta. IndoChine's formula basically is serving some quality "nutriceutical" IndoChine food followed by a relaxed after dinner atmosphere.
IndoChine Jakarta is pretty huge and divided in an indoor area and huge roof terrace. The inside area is trendy, huge and… empty most of the times. I guess the location and the fact that it's just so big doesn't really appeal to people. However, the roof terrace is sheer genius if you ask me. IndoChine Jakarta brands the roof terrace as a beach club and considering it's in the middle of one of the most crowded metropoles it's probably the closest you can get to a beach club. The pool is nice but looks a little like an aquarium and can be annoying when you're sitting next to it and someone decided to take a jump in it. IndoChine lacks an ocean view but how's this view for an ocean replacement?
The food is pretty good but the weird thing is that there are 2 different menus and my favorite food is on the menu that we always have to ask for. If you go have dinner there check out the sizzling Luc Lac and the Chao-Tom.
The staff at IndoChine is well trained, friendly, professional. What I really appreciate is that the staff remembers your name, favorite drink and food after just a few visits. Prices are what you can expect for a more upscale venue but not over the top. IndoChine is definitely a place you will see me pretty often, both for private leisure as well as business meetings. Btw, when you want to eat outside at IndoChine on weekends you're advised to call for a reservation.
IndoChine Jakarta
Bar - Restaurant - Parties - Lifestyle
fX Lifestyle X'enter 8th floor
Jl. Jend. Sudirman
Pintu Satu Senayan Jakarta
Tel: +62 21 300 30 330 / +62 21 255 54 588
www.indochine-group.com
UPDATE: The place is closed now.