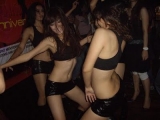 One thing is for sure, Indonesians like their chicken, with rice of course. Chicken is the number one food in Indonesia and the number of variations on chicken in the Indonesian kitchen are staggering.
Ayam Goreng, Ayam Bakar, Ayam Kuning, Ayam Katsu, Ayam Gulai Rebung, Ayam Masak Habang, Ayam Rebus Jamur, Ayam Goreng Tepung, Ayam Saus Bawang, Ayam Masak Bawang, Ayam Goreng Mentega, Ayam Kuluyuk, Ayam Bumbu Hijau, Ayam Kalio Padang, Ayam Besengek, Ayam Drumstick Pedas, Ayam Areh, Ayam Bumbu Poyah, Ayam Ungkep Wijen, Ayam Sumpu, Tum Ayam. Well, I really could go on for hours but you get my drift.
But guys, if you're sitting in a smelly cab on a saturday night and the driver is asking you if you're interested in some Ayam he's not referring to the nice Indonesian cuisine, that will soon become clear after he takes out his China phone and shows you some "Ayam" pictures from which you can choose. Yep, taxi drivers are also looking at up-selling and cross-selling to make some money on the commission.
Ayam in the Indonesian night life refers to the "working" women and girls who would like to provide you with sexual services in exchange for money. In Jakarta you can find "Ayam" everywhere but it seems to be concentrated in Blok M. And what I didn't know is that like the chicken recipes also the female "Ayam" comes in many versions. The website JakartaBlokM.com did some CSI kind of profiling categorizing the different kinds of "Ayam" (Sharks, Lolitas, QuickFits and many more), check it, it's fun.
Everyone who hit this page in the expectation for a nice Ayam recipe, here you can find all the Ayam recipes. Have a nice dinner!