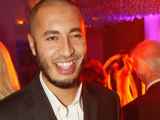 According to Reuters an Libyan governement spokesman told that yesterday on April 30th an attack with assumably 3 precision rockets was carried out on the residence of Libyan leader Muammar Gaddafi. The attack killed his son Saif al-Arab Gaddafi and three of his grand children. NATO is denying the attacks on Gaddafi's house and attempting to kill the Libyan leader but said that it had initiated air-strikes on strategic military targets in the same area of Tripoli.
"NATO continued its precision strikes against regime military installations in Tripoli overnight, including striking a known command and control building in the Bab al-Aziziyah neighborhood shortly after 1800 GMT Saturday evening," the alliance said in a statement.
Undoubtedly this situation will not help the already delicate situation in Lybia, killing 3 pre-teens children instead of the leader generally isn't good publicity. At the same time surviving an attack of this scale Libyan leader Muammar Gaddafi's position will only become stronger.
It seems that campaign Odyssey Dawn like many other NATO campaigns doesn't turn out to be the swift, precise and efficient campaign in which many civilians have become the victim.
All images courtesy of Reuters.