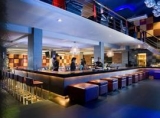 UPDATE: Following the closing of Double 6 also Bacio will permanently close its doors as from september or october 2011! The land these two clubs are on will be used for new apartments buildings….
In my two years living in Bali I guess I've pretty much got to know most aspects of the vibrant nightlife on paradise island and one of my favorite spots definitely is Bacio. This club is one of the many clubs owned by the local F&B tycoon Kadek and is situated in Seminyak on Jalan 66 which is also home of clubs like Dejavu, Double Six, La Vida Loca and just accompanied by Cocoon.
Due to it's magnificent location, only separated from the beach by a small road, one could call Bacio a beach club, it has a great terrace with some comfy lounge couches and because the whole front is open you can even enjoy the spectacular view from the inside.
Bacio has a modern classy interior lacking a high tech light show but decorated by many disco 80′s mirror balls. The main bar is concentrated in the middle just at the point where the second floor starts, basically dividing the ground level in two areas, the high, light front area and the low and darker back area.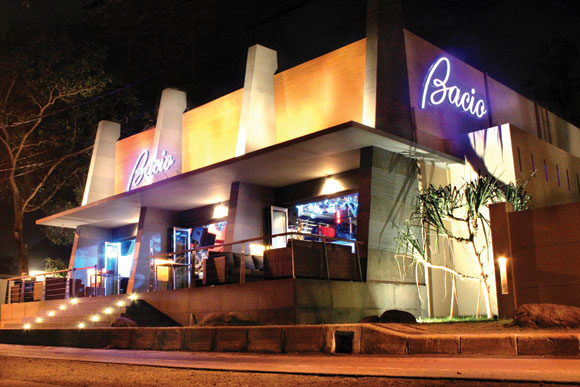 Already for years DJ's Chandra and Andre rock the decks and do a pretty good job at it. Until around 00:30 the music is groovy and soulful, relaxed but very danceable and once the place gets crowded the DJ's shift it up a few gears throwing in some more techie party tracks. If you come here weekly you could get bored by hearing a lot of the same music every week but that's what you get in a tourist area and from all clubs the repetition level is one of the lowest here.
If you're planning to grab a bear coming from the beach wearing slipper and a Bintang shirt then you're coming to the wrong club. Bacio profiles itself as an upscale, classy club so it has a clothing policy and prices are pretty steep compared to clubs like Skygarden.
The crowd is a mix of expats, wealthy tourists who visit Bali more regularly, not too much regular tourists and of course the 'working' girls. Depending on the night you come and the crowd you can have the night of your live but sometimes it can be pretty dull with sometimes even an aggressive atmosphere. If you come on a saturday and you want to sit at a table you'll probably have to "open a bottle" which is required for the "VIP" treatment. A bit weird because basically that policy makes you spend less money unless you share with the some of the girls out for a cheap drink.
So next time you're in Bali and want to hit the town, Bacio would definitely be the place to go to but don't come earlier than 01:00 and make sure you bring enough money.
Just to get an idea about what kind of music is played in the Bacio, this track was one of the popular ones about a year ago and still a favorite of mine.