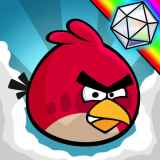 Angry birds has become my main source of entertainment in airports, the waiting room at the dentist and during boring meetings (sound of). And even though the birds are angry and on a rampage, who would have thought all the fluffy birds are in fact spying on you and me?
A research reported by the Daily Mail tested 101 apps and found that 56 transmitted the phone's individual number (UDID) to a private company, some 47 sent the phone's location and five sent age, gender and other personal information.
Among the 56 apps sending the phone's UDID is Angry Birds which sent the information to the game's makers Electronic Arts. Pandora, the popular music app, sent gender, location age and the phone ID to a string of advertising networks. Android and iPhone versions of a game called Paper Toss, where players try to throw paper wads into a bin, each sent the phone's ID number to at least five ad companies.
A Google spokesman admitted its AdMob wing targets adverts based on information gleaned from apps (Do no evil?). Apple spokesman Tom Neumayr said: 'We have created strong privacy protections for our customers, especially regarding location-based data,' adding that 'privacy and trust are vitally important'. Chillingo said it does not share any information with outsiders.
Will this stop you from playing Angry Birds? With so much money involved in mobile advertising it can hardly be called shocking news but in the light of Facebooks recent privacy issues it's somewhat weird that this seems to be a none issue.
So, for all you Angry Birds fans who probably really don't give a damn, hereby a nice Angry Birds strategy video, more Angry Birds walkthroughs on Youtube. Game on!