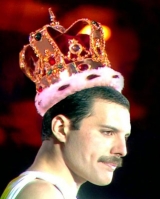 Is this the real life?
Is this just fantasy?
Caught in a landslide,
No escape from reality.

Freddie Mercury
A good friend of mine alerted me that today would have been Freddie Mercury's 65th birthday. This will be the moment many people click away from reading this post, similar like the faces I saw in the Tokobagus office when I talked about Queen thinking everyone still knows them. Yep, already 20 years ago that Freddie died from AIDS but still everyone should know him in my opinion. After all, he wrote one of the best pop songs ever, Bohemian Rhapsody which after 36 years (OMG! yes 36 years!) still leads the top 100 "best-singles-ever".