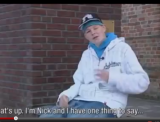 BUYAKASHA! CEK DIS! Big shout to my main man G-Low and none other than the Dokkum "C's up and B's down" West Side Cribs. BIG UP FOR UR SELVES!
Check the future of real life soap: Holland In Da Hood. Izzle kizzle, fo' schizzle. Dokkum and Munster-Geleen, famous for their gangsta's hussling bud, ice, yayo, blow and afterwards cruisin' back to their crib in their rim pimped whip where da playa's chillax with a bizzle sippin' some bubs. Yep, Vanilla Ice is so back again.
Anyways, RESPCET! This is one docusoap that's gonna go viral world wide and I'm already the biggest fan. Question is of course whether they, the retarded mentally challenged stars, will be physically able to live long enough to fill a season. This will be the absolute shizzle shiznit, for rizzle. Shout to my main man Reinout Oerlemans who after "The Voice", "Oh Oh Cherso" now invented real life 3.0. BOX!
If you don't get a word of this post, here's a lonely planet gangsta dictionary or just check the trailer, it's friggin' brilliant. If you don't mind, this Dutch gangsta is going to bed hoping tomorrow the vicarious shame will be gone.
Via Dumpert.