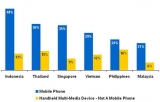 Already Indonesia is a country where mobile Internet relatively to the total Internet users is the highest in South East Asia and one of the highest in the world. But still the total Internet penetration of just 21% in Indonesia is the lowest in SEA. According to Nielsen's upcoming  Southeast Asia Digital Consumer Report already 48% of all Internet users in Indonesia use a mobile phone to access the Internet. Considering that Indonesia is an archipelago which comprises around 18.000 islands this is not really surprising for obvious reasons.
But there are more strong signs that in the next years mobile Internet will surge like nowhere else in the world.

Telco's need new income sources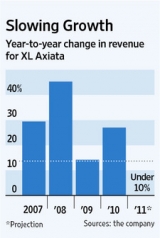 The last years not even the sky was the limit for Indonesian telco's like Telkomsel and XL. With mobile device sales showing growth percentages of 25% and up Telco's didn't have to worry whether there was a market for their services. But 2011 will probably be the first year that the growth of mobile subscriptions will drop below 10%. Obviously this will put pressure on the directors of these Telco's since shareholders are spoiled and keep wanting more obviously.
The logical next source of income for these Telco's are add-on services of which mobile Internet and ringtones are the most interesting ones. Telco's are currently investing heavily in improving and expending their broadband services making sure they're fully armed for the battle for the mobile Internet users. Indonesia already sees a shift in advertising messages by Telco's where the emphasis will be put more on add on services or selling hot devices with mobile broadband subscriptions.
Indonesians love their gadgets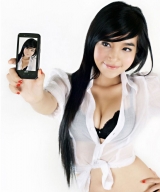 Now this must sound like a ridiculous part of my plead, after all everyone loves gadgets. True, but believe me, Indonesia is different way much different. In 1948 Abraham Maslow published a paper A Theory of Human Motivation which explains the hierarchy of human needs. You know, food, water sleep and sex and when there's still money available people move on to safety issues etc. Well, for Indonesia this pyramid of human needs should definitely be redesigned by adding a motorbike and handphone to the bottom layer of basic needs.
People making $400 per month easily take credit for buying a phone and because status counts it will often be a cool smartphone. Both the launch events of the Galaxy Tab P1000 and the Galaxy Tab 10.1 in Jakarta looked like mass hysteria events. The last one got hundreds of people who slept outside Pacific Place to not miss their shot at a one time discount and the event even caused fights in the crowd as the number of people waiting by far exceeded the number of available devices.
Indonesia's consumer electronics devices market, defined as the addressable market for computing devices, mobile handsets and video, audio and gaming products, is projected at about US$9.7bn in 2011. This is expected to increase to US$16.5bn by 2015, driven by growing affordability of key products and an expanding number of electronics retail outlets.

Source: Marketresearch.com
Indonesians NEED chatting and social media
Ever had meeting in Indonesia? Ever invited friends for dinner to your house? In Europe you will see that during a meeting phones are silenced and when having a dinner or party the use of mobile devices is mostly limited to the absolut minimum. Not so in Indonesia. During almost every gathering you will see at least 60% of the people engaging more in chatting, BBM or tweeting than really engaging the in real-life event they're attending. This results in Indonesia being the 2nd largest country in the world of Facebook users and third on the list of countries producing the most tweets in the world.
The high usage of social media in Indonesia generates a social pressure for non-users which is hard to resist. An the most easiest and logical way to enter the would of social media is buying a mobile device with Internet access. A great article on the economist about Indonesia is called "Eat, Pray, Tweet" and hits the nail on the head.