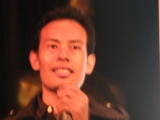 Wednesday april 13th, location Planet Hollywood, the first Tokobagus Power seller event. After a long period focussing on buyers we thought it would be nice to hear what our sellers have to say and then especially the ones that are most active. So we arranged a venue, some nice food and drinks and invited Andrea Li to host the event.
The event started slow because Planet Hollywood is located in the 3-in-1 zone and the traffic was according Jakarta's reputation. But slowly the venue filled up with powersellers and soon our team was engaged in some interesting discussions. I don't want to bother you with all the details about how Andrea Li sang (pretty good actually) or what was said, no I want to focus on the most interesting person of the night: Maznoer a.k.a. "The Ant man".
People tend to judge fast and even though I hate that I'm guilty as well of that too from time to time as this evening. Because my bahasa is not perfect I focussed more on overviewing the event to make sure everyone got the same attention and my eye fell on a guy sitting alone for a while in a corner. So I asked Arno if he could have a talk with him because everybody else was already busy and so he did. But within a minute he came back saying: "The guy showed me a picture of my wife asking if she would be here tonight" ROFL! Well, I must say I understand, Arno's wife is an ex-model and rather pretty and I could really appreciate the irony because for sure he didn't know Arno is her husband. But on the other hand it gave a weird first impression because, well, coming to the event just to meet a woman you never talked to….
So the event moved on and at one time our offline marketing manager was answering questions from the power seller audience and at one moment the same guy climbed the stage. We were a bit surprised and even more because he brought a paper which clearly contained highlights for an hour long speech.
His name is Mazoer and he took the mic and started talking a bit, let's say slow and slightly insecure so we were looking at each other with a worried look saying "where is this going?" But clearly I underestimated Maznoer because he started slow but it wasn't after long that we realized we were totally wrong about Maznoer. Maznoer started running hot with his speech and delivered some super funny punch lines which created hilarity in the audience and instead of the usual chatting during his speech people were completely focussed and fascinated by Maznoer. At that time Arno even asked me whether we were paying this because both his story and delivery were just off the wall super perfect and even got me doubting whether Maria (respect to her for a great job on the event) made some kind of brilliant move.
But no, Maznoer is one of our power sellers with a great story. About one and a half year ago he closed his offline car company and started selling used cars in a certain price range on Tokobagus. His customers call him "The Ant Man" because basically he focusses on selling somewhat older cars which come with complimentary ants. But Maznoer doesn't care, he sells cheap cars without any bullshit and he delivers what he promises. This resulted in selling more than 200 CARS in a period of 18 months! At this time his whole family got involved in the business which still keeps on growing. Yep, Maznoer is a true car salesman to be proud of and entertained the other power sellers and our team in a way we never would have thought possible.
Of course there's a moral in this story. Everyday I'm confronted with numbers like # visits, page views per visit, bounce rate, # new ads and so on and on. From time to time we also conduct surveys to know what's going on amongst our buyers and sellers which result in more numbers. However, when meeting Maznoer and hearing his remarkable story something became really clear.
Tokobagus, the website we're running everyday is not about numbers, it's about the people who actually use it. Marlon, our senior developer and Nestor of the company, even got somewhat emotional saying that he just realized that every fuck up he makes actually affects peoples businesses and lives. On one hand this makes our work a bigger responsibility but much more it makes it so much more satisfying.
Personally I will never forget Maznoer and definitely hope to meet with him again in the future. For me Maznoer has become the face of our community and reminds me that the result of what we do is not about the cold hard numbers but about people who give us an extra motivation to do what we do and keep trying to do it better. In the end Maznoer won the three door prize, gave a Bollywood dance demo and completely stole our hearts. Maznoer, thanks for your infective enthusiasm, thanks for sharing your story and giving our community a face and don't forget to kick our ass when we let you down!
Btw, here's a link to Maznoer's shop at Tokobagus, this is how online selling is done!