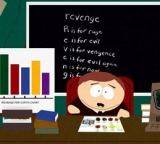 Time for some serious blogging. Mind you, we've got to keep working on our credibility because we don't want people to think this blog is only a sarcastic parody on what goes on in the digital market. So let's talk serious, let's talk KPI's (Key Performance Indicators), specifically website KPI's. Cool stuff? I mean KPI's are AWESOME. Nothing better to impress your colleague entrepreneurs with a comment like "yeah we just hit 450.000 visits per day", look at those faces, admiration combined with jealousy all around. Of course quickly responded by an alpha-male saying that on his supersite.com the average pageviews per visits had gone up with a staggering 30% to 23 pv/visit. Wow! that's great, super duper good for you!
First off, everybody lies about their stats and KPI's, EV-ER-Y-BO-DY! Why? Because it's like discussing the size of a man's body part which is mainly used for drainage and reproduction. Are you gonna tell the truth if yours indicates it spend a whole day in a bowl of ice water? And even if your blessed with size XL you still want to add some to it. Am I right? Let's just say it's a typical man thing. Well, let's break a taboo here, set a trend, let us be the first to be open and honest about this: in the last month SangatPedas had 876 99.546 (too much?) 12.339 visits, there you have, honestly.
Second, you can brag about how many visits and pageviews you've had in the last month but without the context it means absolutely nothing and while you're thinking that many pageviews/visit is great it could well be a really bad indication. In general one could argue is that the lower the pageviews/visit the better because that could indicate a perfect usability and the the visitor found the content he needed within the lowest amount of clicks possible. Take a website like the yellow papers, in a perfect world there would exactly 2 pageviews per visit.  However, this will only be proven when visitors are loyal to your site. There are of course lots of exceptions to this rule like almost any website with user generated content (Youtube, twitter, facebook, soundcloud etc etc) and companies based on an advertising business model like most online newspapers.
Before we move on to the interesting and useful part, I would like to add that I prefer the term KSI's (Key Success Indicators) over KPI's. They both have the same meaning but the word succes instead of performance makes sense to me. How successful is your marketing? How successful are your online sales? Do your strategy and execution succeed in reaching your goals?
So which are the best KSI's for my website? That's something you have got to decide for your self because it heavily depends on your business model.
Conversions
A good start for any measurement is knowing exactly what you need to measure, in other words: what are your objectives?
Sales conversion
For e-commerce sites, what percentage of your visitors actually converts into a purchase? If you the this number up your margin will go up.
Average Sales Value
How successful is your site/business when it comes to cross- and up-selling? You might have more sales during a marketing campaign but if the average value goes down it could be that your marketing campaign isn't all that successful.
Visits and time to conversion
Often conversions are seen as single session entities while it could well be that a conversion actually takes place during a fourth or fifth visit which could result in crediting the wrong marketing instrument. Justin Coutroni covers this in an excellent post about GA e-commerce tracking and pan session tracking.
Visitor loyalty and recency
So you got a visitor and he actually converted, so you want him to come back more often, right? As often as possible. Basically these two KSI's are a good, probably the best indication for the quality of your business and website. When doing any changes to your website, product range, pricing or basically any chance in your business, this is one of the major indicators whether the chances have the desired effect, especially on a non e-commerce website.
Pageviews/visit or engaged visitors
When your business model is advertising then these are indeed important KSI's since basically every pageview IS a sale.

Segment your KSI's!
Any KSI doesn't really tell you a lot if it's not specified by segments. The most obvious segments are traffic source, marketing campaigns, rss feed or emails. Basically anything you to to attract visitors and customers you should measure separately for each segment in order to know where your strategy works and where it fails. Without segmentation you'll see the consequences of your marketing efforts but you're unable to assign successes or failures to one specific effort which basically still keeps you in the dark.

Listen to your customers: conduct surveys
Analytics have come a long way and brings an enormous insight in your business but doesn't tell you everything. What it doesn't tell you is why customers leave your site and how satisfied they are. Nothing beats going to the source, your visitors, your customers, and let them tell about their experience. Think about what you want to know from your visitors but allow some freedom by always asking for any comments and complaints, you will hear things that you never thought of before.
One very useful survey is a permission-based on-exit survey aimed at getting answers on three questions:
What is the purpose of your visit to our website today?
Were you able to complete your task today?
If you were not able to complete your task today, why not?
Primary Purpose. Task Completion Rate. Segments of Discontent .
Some good stuff about doing an exit survey with for instance 4q can be found on kaushik.net
Hope this post will help you in achieving your goals and hope to see some comments.