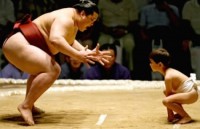 One of my favorite business quotes is one from Donald Trump "As long as your going to be thinking anyway, think BIG!" Evidently the guys of a bold and brave Indonesian startup going by the name of "Sitti" agree. With their localized contextual advertising system they're aiming to throw Google Adwords of its thrown, at least in Indonesia.
A (translated) quote from their blog:
We challenge Google inc to compete. We are sorry.
Again, really sorry. I am afraid of Google.
Google has 1 million servers. Sitti has got 6.
Google has 20,621 employees. Sitti has got 20.
Google has 1000 PhD's who work for them. Sitti has got 1, and even then not really after 6 years of trying.
Google brings Rp 230 trillion in one year. Sitti bring Rp 630.000 from sales of bottled tea in the cooperative Udin, the OB in the office Sitti.
Google has the world. Sitti has Indonesia. And just Indonesia.
Don't apologize and don't be afraid guys, you're heroes in my book. All the great companies started small once facing seemingly undefeatable competition but at least tried and made it. No guts no glory!
Whatever anyone might say, despite having all odds against you we give you guys the big thumbs up! It's challengers like you guys that make the Internet better. Word! Semangat!
No related posts.