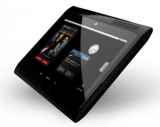 In 2011 Motorola will be launching their Android tablet and they're already starting some pre-launch promotion. For that they've made a somewhat funny video about the history and evolution of the tablet. Funny thing is that there are a lot of negative comments on this video on youtube like that it's not good marketing practice to bash other products/manufacturers. Actually in general I agree that promoting your own product by bashing the competitors is bad practice but on the other hand it is funny to claim that this device will make the iPad and Galaxy Tab look ancient.
Since it's a teaser and you don't get to see the actual product I guess the assignment for the creative persons was to create a buzz around this new tablet. The idea is original and whatever comments one might have, with > 413.000 views on Youtube in 2 days I guess Motorola will already be really happy with this campaign. Despite the presence of a bee in the commercial, which made people think the device is called "Honeycomb" (reference to Android 3.0 Honeycomb), "Buzz" or the "Bee", the device will be called "Motorola Xoom".
Anyways, the specs seem to be quite impressive according to the geeks that should know (source Phone Arena:
The Motorola tablet will come in different models that will connect to UMTS, CDMA and LTE. Under the hood will be a NVIDIA Tegra 2 T20 dual-core chipset and will feature both a front facing camera (2MP) and one on the rear (5MP). The WXGA display will have a 1280 x 800 resolution and will come with 32GB of internal storage and include a Gyroscope. Don't forget that Android 3.0, Honeycomb, will be running the show as the first Android OS to be optimized for tablets.
Anyone up for a 5 hour wait to get me the first on launch day at Senayan Plaza?