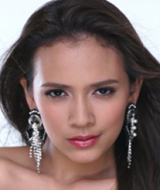 Yep, I've had complaints from the loyal followers of this blog and righteously so. The payoff of this blog clearly promises "geeks, GIRLS & gossip" and lately there hasn't been a whole lot of girls on this blog. And at the same time there's another somehow related problem, the national soccer team is pretty much letting Indonesia down and the kind people of Indonesia need someone they can cheer for. Someone representing their country and defending it's honor.
Well, let me introduce ya'll to Miss Universe Indonesia 2011 Nadine Alexandra Dewi Ames. WATCH AND AWE!
I can say one thing, Nadine looks a lot better than Indonesia's troubling football team. But she needs some help and that's where you come in. We at Sangat Pedas, objective as we are think Nadine should at least make it through to the finals of the Miss Universe competition. So please all VOTE HERE For Nadine followed by some major liking, plussing and tweeting. Guys, this is a matter of national urgency so don't let us down.
An indepth interview here (there is life outside of earth), more pictures here and here. Sangat Pedas to the rescue! RETWEET!!!
UPDATE: My dinner/interview request has been denied by Nadine's management, something to do with my reputation and authority or something.
UPDATE: Well, disappointing to say the least. Nadine didn't make it through to the finals while in fact all she needed was roughly 269.000 votes. Too bad and time to find someone/something else to cheer for in Indonesia, Formula 3 maybe?