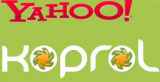 [Promo start]
Somewhere in "the cloud" some servers are smoking, bold blogging about famous people works like crazy. So what's next? Right, monetization, already after only two weeks. This will be a historical moment for Sangat Pedas, it's first shameless promotion. Paid in full in advance, 1 liter Bacardi Oro of course!. Seems a bit weird title for a promo blog though, right? Well it will get worse at first but I bet ya this will be the best bleeping promo Koprol will ever have, so Yahoo guys stay cool and have faith.
So, there I was this afternoon at the office after accepting my first payment for a post about Koprol and I assume Smitty would prefer a positive over a negative one. First of all, I don't have any experience with paid blogs. Second, I'm like many others a foursquare guy, love the badges an mayorships. Third, up until today I only looked at Koprol's PC version homepage, which is btw way one of my favorites all time and I'm 100% serious and objective about that. And last but not least I got dispraising looks and comments from my business partner and co-workers at Tokobagus about me selling my soul for a few bucks. Damn, what have I gotten myself into this time.
Time for some research, also called investigative journalism. Let's download the iPhone app and get to work. Uh? What? No iPhone app? 'We're working on it' was Smitty's comment. But I remember Koprol targeting the low-end devices which are the vast majority so I can understand that, I start hating my iPhone 3GS more and more anyway.
So let's do some serious usability research on the mobile site, analyze the interface and say some wise things about that. I mean that's what reviews are normally about. After playing around with the mobile site, again on my iPhone, I concluded that this wasn't the way to go. No, it's not crappy but didn't blow me away, it's definitely better than Foursquare's interface (unless you have really tiny fingers), I give them that but it's no killer interface. Who cares interfaces are overrated anyway, right?
People who feel a Koprol bash coming up, I hate to disappoint you guys, cos I'm actually a modest but brilliant blogger and like I said, this will be the best bleeping Koprol promo ever!
Now I could steal some of Smitty's wisdom and argue that Indonesian's should embrace Indonesian websites and communities. Sure, I'll rude for that but the truth is that in the end people just use things that work for them whoever build or owns it. Besides, that argument is crushed by the fact that Koprol has international ambitions and owned by Yahoo.
But let me ask you. Are communities about apps? No! Are communities about interfaces? No! So what are communities about? PEOPLE! Aha, now we're getting somewhere. Let me tell you about my presence in social communities. I'm on Hyves.nl. What? Who? Yeah a Dutch social community (still fractionally bigger than Facebook in Holland) where mainly women my age post about how tired they are, how their period is bugging them and what a lovely dinner they had with their hubby. BORING, don't care, not interested, NEXT!
So, of course I'm on Facebook, which is actually more a dating site. We all know the nickname for FB (F**k book) and it seems to work like a charm, I love the girls promoting themselves with pics from the time they still looked sexy, but the problem is that I'm not single anymore.
Foursquare? Yep, but only hunting for mayorships and badges, no idea why and I cheat like crazy but I never actually communicated with anyone there.
Twitter? I kinda like twitter but it's such an overload of info and hard to filter out the good stuff. But great for promoting my blog.
Today, I logged on to Koprol and had immediately some nice conversations with fun, creative and fashionable people. Wow, that's refreshing, no Web 2.0 wining about lost boy friends and having to cook dinner but FRESH communication with interesting people. Almost instantly I was invited for lunch, talking about hospitality. Ok, this Koprol thing seems to be different in many ways and pretty much amazing.
Forget bugs, interfaces apps and all that technological overrated crap, the geeks will sort that out. Being on Koprol is like being in the most hip and exclusive club where the bouncers only let the fun people in. It's like being outside the MTV awards and seeing the stars and celebs entering the venue which in this case is Koprol. It's like when house music was still underground and you felt you were part of something special. It's like talking to Sarah Lacy who slips you her phone number (yup, it still bothers me). It's like.. well I guess you get the picture, it's AWESOME!
Forget Facebook's world domination it's getting old and lame anyway. Perfection? Boring! Are you different? Are you hip? Are you down with it? Be Web 2.5 and be part of KOPROL, a community that actually lives and will bring you friends you never thought you would have. And to all winers, complainers, iPhone users (oops…), old-fashioned, vinegar pissing, lame "gotta post something" spammers: please stay where you are and DON'T use Koprol, we would like to stay different and fun.
KOPROL… keeping it real!
[Promo end]
Smitty? Great stuff yah? Genius stuff if I may say so myself. Time for a hard earned Bacardi & Coke on the rocks, courtesy of Koprol, love you guys!