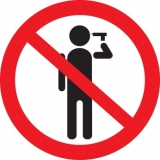 Foxconn city, a.k.a. iPhone city, a nice little factory in China that produces all your favorite gadgets the iPhone 4G and the by myself much desired iPad2 but also produces or have produced stuff for Acer, Amazon.com, Asus, HP, Nokia, Sony, Samsung and may others. In order to keep all their customers happy they build the Longhua Science & Technology Park, which currently is their largest operation and house an estimted 450.000 happy-da-pappy Chinese workers.
Everyday they go to work with a smile on their face and inside the factory there's nothing but happy people enjoying their work. Well, most of them but in 2010 some of them were less happy and decided life wasn't worth living anymore. It seemed to have been connected to the working conditions, working 18 days 12 hours a day in a row on average isn't really healthy for mind and body. Not only the long hours but also getting beat up by the security is not the most motivting way to get you through the day.
Only in 2010 at least 14 people tried to commit suicide and reportedly at least 10 actually succeeded. Now some claim that only 10 suicides as a great achievement in China, showing that with statistics you can basically claim anything you want, just a matter of interpretation.
Anyway, the whole situation was a pain in the butt-hole for Apple so some concerning statements were issued promising a "thorough" investigation and strict guidelines for all Apple's suppliers. Anyway, as usual today's news is tomorrows news paper and soon the whole situation blew over.
But Foxconn is in it to win it, money that is, and paying out compensations to families of those who committed suicide isn't winning. So now if you're lucky enough to score a nice job at the Longhua Science & Technology Park you'll have to pledge NOT TO COMMIT SUICIDE and just in case you change your mind your family can only seek minimum monetary damages in recompense from the company.
Yep, just a matter of clean efficient management, limit your risks. But the upside is that if an employees in fact succeeds in imitating robotic behavior and jump through burning hoops they can get a 66% bonus which mounts up to a staggering $ 292 monthly salary. Way the go! In the meanwhile nets have been installed outside the walls as safeguard for people breaking their pledge.