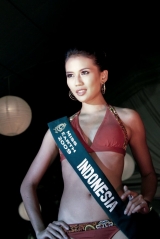 I LOVE BEAUTIFUL WOMEN. Fact! So there you have it. It's out. Glad I got that of my chest. But beauty is only skin deep and not always combined with intelligence. And then to find a woman who is both that and actually puts it to good use puts a big smile on my face.
Yes peepz, through some weird coincidence in my pathetic quest to let celebrities follow me on Twitter I got in contact with the extreme hot multi-talent-mega-celebrity-pageant-queen Nadine Zamira Sjarief.
Mentioning this to a female colleague (who also happens to be a full-time Sangat-Pedas-hater) was quickly replied by a bitchy "No one knows Nadine". This of course is an implicit contradiction itself, motivated by a typical female envy that guys detect from miles away. But that made me even more convinced Nadine could be one of those rare power women who should be put to the ultimate test: a full on, raw and uncut, in your face Twitterview.