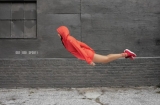 There isn't hardly a week that goes by without having at least 3 nightly meetings. I prefer nightly meetings due to the pile of work on my desk and because it enables me to combine it with some nice food and an occasional drink. To be honest, a lot of those meetings are darn right boring and maybe even a waste of time. Sure, the upside is I get to know more and more entrepreneurs and investors in the business. The downside is that lots of times the agenda of my dinner company is to get to know everything about the Indonesian Internet market and Tokobagus in exchange for a polite thank you.
Tonight was refreshingly different when I met with Patrick Searl, a Digital Brand Strategist and a natural in connecting people. (Thanks to Selina for the introduction!) Sceptic as I am, the title Digital Brand Strategist could well be the topic of a nice rant, but not this Time. Someone who's 26 years old, coming from the UK, mastered Mandarin and has been working for some big brands in China surely has my attention.
Besides talking about the Indonesian tech-startup market and the Jakarta vibe and discomforts, most of our conversation was about building brands. During that conversation Patrick stated that building brands is about finding the right direction, hitting the right key and reaching that place where you need to be with your brand. Just as long until you hit that perfect wave that will completely change the game and bring your brand to unprecedented levels.
Probably one of the most exciting examples is how Nike build their brand over the past 47 year. From the introduction of the "swoosh" and the creation of the trademark "Just Do It" by Wieden + Kennedy up till the latest "Be Free" campaign. Nike caught their "Perfect Wave" with changing from a feature oriented marketing to a cultural, inspiring and empowering one. A big and bold strategy change as a result of out-of-the-box thinking which resulted in what Nike is today.
Life and everything you want to achieve in it is about finding the right place at the right time to catch that perfect wave and once you succeed you ride it on as long as you can. Fortunately (yes, fortunately!) this isn't an exact science, just as the "Just Do It" trademark wasn't a product of exact science either. It might be a sudden stroke of genius but in most cases, if ever, it's a slow and long evolution.
Whether you're in marketing, development, UI design or just in life, you need to keep looking for that perfect wave. This is much harder than it seems and on many occasions I felt and sometimes still feel completely stuck and clueless. Guys like Patrick remind me of the importance of staying open-minded and perceptive for what people have to say. It just might so happen that one sentence in a 3 hour conversation shows you how, where and when to catch that perfect wave that will change your life.