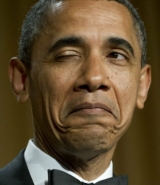 Remember the speech from Obama in 2007 in which he argued to stop spying on people who are not suspected of a crime? Probably you don't, at least that's what Obama and all other politicians generally assume when they make promises to get voters. Well, please REFRESH YOUR MEMORY.
An then a few years later Obama addressed questions about the US government disregarding all principles of privacy, how ironic. Basically the outcome was that the NSA is allowed without any warrant to access emails and all other digital information as it seems fit, as long as the targets are not living in the US. Nice! Companies like Google and Facebook providing any kind of info the NSA needs, straight from our email boxes.
Now don't get me wrong, I'm all for security and that for that sacrifices have to be made. However, we've made many sacrifices already, such as airport molestation security. Harassing new moms about their baby milk. Or what about this young girl bound to a wheelchair on her way to get medical treatment? Surely a serious bomb threat. Yep, the kids and the elderly fit the terrorist profile perfectl. Riiiight….. Just like those extremely dangerous women with prosthetic breasts.