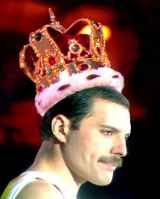 Is this the real life?
Is this just fantasy?
Caught in a landslide,
No escape from reality.

Freddie Mercury
A good friend of mine alerted me that today would have been Freddie Mercury's 65th birthday. This will be the moment many people click away from reading this post, similar like the faces I saw in the Tokobagus office when I talked about Queen thinking everyone still knows them. Yep, already 20 years ago that Freddie died from AIDS but still everyone should know him in my opinion. After all, he wrote one of the best pop songs ever, Bohemian Rhapsody which after 36 years (OMG! yes 36 years!) still leads the top 100 "best-singles-ever".
So I decided to hit Youtube and listen and watch some of the Queen classics, which actually brought some tears in my eyes and left me a little melancholic and indecisive on which video(s) I would embed in this post.
So in memory of my youth hero Freddie, a superb songwriter, a brilliant vocalist and definitely the #1 entertainer ever, a small tribute here on Sangat Pedas with 3 of my Queen favorites. Freddie, happy birthday my here and have a blast up there!
Queen - Save Me (Live at the Bowl 1982)
Queen - You Take My Breath Away