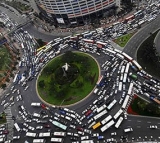 I just arrived home in the place I truly love Bali after 5 days in Jakarta. The Sparxup event was held so the Jakarta was swarmed with young entrepreneurs, VC and the cream of the crop of influential bloggers like Sara Lacy from TechCrunch and the guys from e27 (special thanks to Joon Ian for the great time!). Anyway, an event like this is for me especially interesting because it's the opportunity to meet new people and reconnect with the ones I haven't seen for a long time.
One of the interesting people for me to meet was Michael Francis "Smitty" Smith Jr (sorry, no wikipedia link here), director of global tech initiatives at Yahoo! Besides the fact that his title alone is quite impressive and promising, he's especially famous in the Indonesian startup scene for being the driving force within Yahoo! behind the Koprol take over. Smitty was scheduled as keynote speaker in the first Sparxup event which was a seminar with the name "The next big thing, investment in Indonesian digital market".
After dozing of during the speech in which the BCA director was reviewing the history of the Internet and actually tried to teach a room full of Internet professionals about the benefits and possibilities of the Internet Smitty managed to wake me up instantly. Here was a guy that knows how to get prepare and deliver a speech in which in a subtle way he combined some humor with a clear and useful message to his audience. Yep, I gotta hand it to Smitty, I was impressed, deeply impressed and in fact surprised because not many master the skill of delivering a good speech and especially not techie guys. Yep, you literally blew the Google guy away but who casted him anyway?
Later that day on the Sparxup pitching event someone introduced me to Smitty. As you might know there are som conventions for meeting someone for the first time. Normally you start by telling the other person your name, followed by inquiring to how he's doing. Smitty however chose another approach: "Aaaaah, the buleh from Bali, it's a good thing you move to Jakarta cos people don't take you seriously". BOOM! BANG! IN YOUR FACE! My brain shifted in overdrive since I was completely taken by surprise and actually lost for words and to be quite honest, that doesn't happen very often. I mean after all, considering we never met and we're actually one of the first Yahoo! advertisers in Indonesia this was the last opening line I would expect. Besides that, after two years noble hard work in Indonesia this fellow buleh brought the news to me that "people" actually don't take me seriously because I'm running an online business from Bali. What the hell! Why did no one tell me this before?
So I rewinded and chopped up his introduction in three parts. First, apparently I'm known as the Buleh from Bali. Cool! Useless to deny the fact that I'm a buleh neither that I live and work in Bali and combined with the alliteration it has a nice ring to it. This was quickly followed by the question that ran through my head to what "people" Smitty was referring to and why these "people" apparently don't take Bali based online businesses seriously.
Let's try to find the answer to the first question by using the method of elimination. First that comes to mind when thinking about who Smitty meant with "people" are the people of Indonesia but I guess if that were true then the people of Indonesia would choose another spokesperson, someone born in Indonesia or at least someone that has mastered Bahasa Indonesia. Besides, I'm sure that the people of Indonesia are unaware of my living and work location and probably don't give a shit. No, Smitty must be referring to another group of "people".
Wait a sec, could he be referring to the nice VC "people". You know, the guys with the experience and knowledge to find the diamonds in the rough. Hmmm, I don't know about that since in 2010 almost every "serious" VC knocked on our door asking for a piece of the pie in Tokobagus and offering "big checks" and actually no one even mentioned anything about our location. Nope, I can definitely eliminate this group.
Ok, who else? Maybe my fellow entrepreneurs in Indonesia? You know, the men and women behind the established and coming website and mobile platforms. Am I getting warm? Sure they were curious why we're on Bali but never did someone ever breakup a meeting arguing that any cooperation with Tokobagus is useless while we're located on Bali. Naaah, can't be. These fellow entrepreneurs all have access to Alexa in which they can witness our tremendous growth in the last two years. Tokobagus has in fact been the fastest growing E commerce site for two years in a row and probably one of the three fastest growing sites overall in Indonesia which led to a position where it's "the clear #1 Ecommerce site in Indonesia" ( just quoting a valued colleague of Smitty here).
Damn, I'm running out of options but could it be all the nice people working for Yahoo? This one is eliminated easily by referring to the previous alinea. Leaving me with only one conclusion, Smitty must be referring to himself as being the "people". Yep, I know the method of elimination isn't fail safe and it doesn't make any sense unless Smitty comes from a long line of Royal family or somehow organically has reached majestic levels where in any case the use of Majestic Plural is pretty common. Bingo, assumption is made, first question is answered, Smitty is Royal ergo he was referring to himself. After all for the sake of this post we need a scapegoat considering the image of the Bali Internet scene is at stake here.
Next question, why King Michael Francis Smitty "the people" Smith Jr doesn't take any online Bali based business serious. Sure, there are not much Internet success stories from paradise, heck besides Tokobagus you can just say there are none. I mean Kemana created some buzz but that was way before launching and Fanesia countdown has reached launch date probably already 3 months ago, but like we say on Bali: maybe tomorrow. Even though we are in fact moving to Jakarta, allow me to be the devils advocate because the decision wasn't so obvious as some might think.
In Bali we have a great office for for a fraction of the price in Jakarta. In Bali there are no traffic jams that come even close to those in Jakarta so every day my colleagues and me actually enjoy the 10 minutes drive to the office smelling the fresh air and thanking God for living in paradise. Almost everyone living in Jakarta is eager to work for us in Bali, life is good and cheap and it's a great place for our children. I will even go so far that thanks to Bali we've managed to build a team that's one of the best in Indonesia and not many leave us if only for the prospect of living in Jakarta again.
Jakarta is expensive, it takes an average 3 hours to get to the office which will improve your patience but also result in a stressed start of the day and I dare say less productivity. Jakarta has banjir which will learn you how "to keep your head above the water" but is generally not much appreciated by Jakartians. Fresh air is in fact the invisible gold of Jakarta but it seems to have run out of supply. But, fair is fair, Jakarta has a great vivid and inspiring Internet scene which is one of the reasons we move to Jakarta. So let me wrap it up by giving a warm shout to the Internet scene in Bali which is growing but just has a more laid-back strategy. Guys, don't let King Smitty put you down, people are just jealous and I'm gonna miss you and Bali! Maybe next year the Sparxup awards will be held in Bali, pretty sure that it will have a huge investor crowd all eager to enjoy a few days in Bali.
To Smitty I say come visit us soon before we've moved to Jakarta and I will show you what a day "at the office" looks like in Bali. In the morning some heavy brainstorming on Sanur beach while enjoying breakfast followed by checking the waves at Padang-Padang just to recuperate, surf's up dude! After that we'll probably have a strategic management meeting at Zanzi Bar at Jalan 66 planning our next visit to the office followed by a massage at Kuta Bugar to get the juices flowing again. At Kudeta we enjoy the sunset while making a skype call to our VC explaining that things just take a little more time than expected and in the mean time asking if they can transfer some extra funds because you know, our "expenses" on Bali are high. After that we call it a day and live up to our credo "work hard play hard" and hit the Bali nightlife.
In the mean time I wish everyone in Jakarta a life "tanpa macet" and stress and thanks for the great time this week. Cu all soon in Jakarta!